Department of
Electronics & Telecommunication Engineering
DTE Choice Code

654537210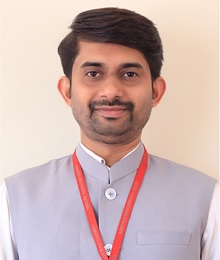 Dr. Vishal sharad Hingmire
Head of Department
Dear Aspiring Engineers,
In the changing environment era 21st century, the role of E&TC engineers is very vital. Today the world has become the global village due to the contribution of E&TC Engineers.
The department of E&TC Arvind Gavali College of Engineering understands the importance of training Engineering students according to the present needs in the competitive world.
The department has well experienced and qualified faculty with expertise in Image Processing, Wireless Networks, Microsystems, Instrumentation, Communication systems VLSI Embedded Systems and Micro-controller, etc. The Dept has an E-TESA organization that conducts various Workshops, Guest Lectures, and Technical Events. Finally, I take this opportunity to mention that we teaching and non-teaching staff together continues to work as a team that is committed to flourishing the department day by day towards and the ultimate goal of achieving excellence in all aspects of departments.
"Nothing is impossible for Electronics & Telecommunication Engineers for skill Oriented Knowledge."
Vision :
To be one of the leading Electronics and Telecommunication Engineering Department engaged in quality education to solve industrial and social problems.
Mission :
The department is committed to imbibe and empower its faculty and aspiring engineers with:
M1: To enrich academic competency by imparting quality education.
M2:To nurture skills among the students helping them succeed and progress in their personal and professional career.
M3: To instill sensitivity towards society and respect for the environment.
Departmental Advisory Board (2023-24)
| Title | Link |
| --- | --- |
| Advisory Board (2023-24) | Download |